AI-Driven Sterile Processing Solutions & Healthcare Asset Management
Censis surgical management solutions bring clarity to the chaotic SPD environment, helping you retain staff, ensure compliance, and improve profitability.
Get Clarity Across
Your Entire
Perioperative Loop
Our AI-driven technologies, fueled by an SPD-centric company culture, provide confidence and insights available in no other platform.
Imagine Always Having the Insights You Need, Two Clicks Away
Run your SPD with calm confidence, always knowing what's going on and why.
The Old Way
CHAOTIC
I'm never sure what our staffing needs are
I worry my techs are skippings steps
I get yelled at by surgeons for errors and missing equipment
I have no one to turn to when our process breaks down

The New Way
CLEAR
I have data to support all staffing requirements
I'm confident patients are safe and the hospital is compliant
We have data to drive shared accountability and help collaboration
I can call, email, message, my expert-led Censis account team whenever I need them
Helping Leaders Like You Accomplish More with Less
An effective SPD should spend 70% of staff hours processing trays, with the remaining 30% spent on all the "stuff" you and your team have to get done.
How helpful would it be to know exactly how your team is spending their time and have access to quick and easy insights to optimize the efficiency of your department?
St. Luke's Health Network used CensisAI² to process an additional 5,000 trays per month with their existing staff. That's a 20% increase in productivity that went straight to the bottom line.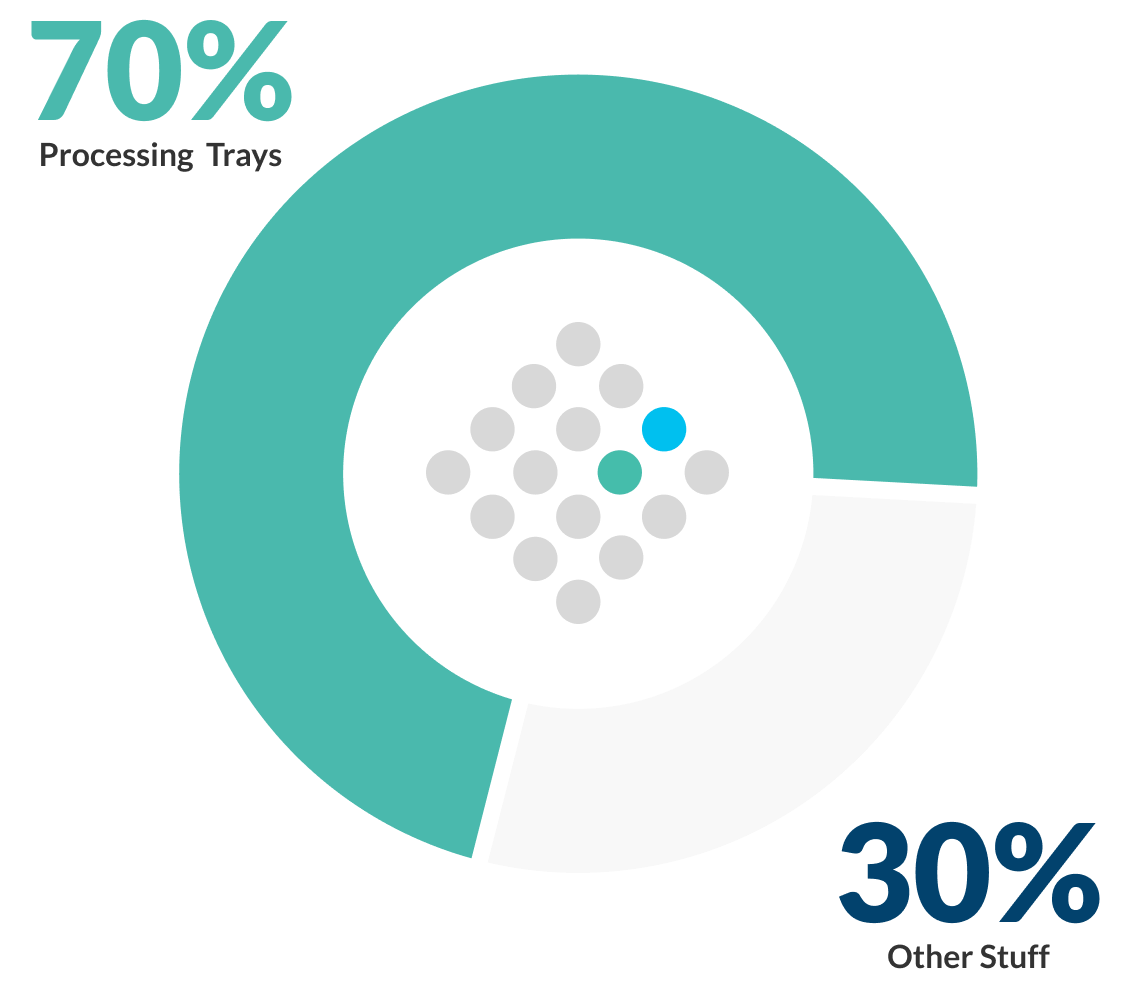 Trusted by Sterile Processing and Perioperative Leaders at Healthcare Organizations Large and Small
The ability to go from paper to digital, it's like going from the card catalog to Google.
All of a sudden, I'm a few mouse clicks away from seeing everything. I can manipulate the data in seconds to see last week, last month, two years ago, total numbers. I can check multiple logs from one location in a short period of time. Audits take minutes instead of hours.
I can't imagine meeting AAMI standards without CensiTrac. It just makes your life so much easier.
I don't have to think, 'Was this done correctly? Did I make a mistake?' If I'm using paper, do I have the right thing? When a surveyor comes in, can I find that IFU? This is a reliable, standardized system. CensiTrac makes it easier to follow your regulations, and it makes it easier to follow your processes. It takes the worry out of the process.
Being able to develop standardized work and processes helps with the day-to-day chaos that we all experience and gives you back some control.
So for example, I know that I don't have to spend time physically trying to search for something. I can just look in the CensiTrac system and figure out where it is. Censis helps us to make quicker decisions, so we're not flailing around doing things manually.
We've had the opportunity to utilize data from Censis in a multitude of ways to be able to influence change within the organization.
Within sterile processing, when you have instrument issues that occur within the OR, you're always going to be at blame. What I have learned over the years is that evidence can be beneficial to make improvement, but it's also a way to prove your innocence. CensiTrac really enabled us to do that and really helped to give us a voice.
After using Impress for 14 years, we transitioned to CensiTrac! The team loves the system and its capabilities to support processes, standards of work, and compliance.
As an academic teaching facility, we love to teach students in the infancy of their career, and this system is wonderful in setting these students and new hires up for success! For any of you without an instrument management system, these information systems are a must have tool in the complex environment of surgical services today!